Eyefinity Practice Management 10.2.1 Release Notes
Monthly Production Summary Report Enhancements
Release Date: January 17, 2019
The Monthly Production Summary Report has been enhanced for easier, more accurate reconciliation and to improve usability for multi-location practices.
Additional Data
The report adds the following new columns. Totals for each line item and column are included.
Allowance
Cont Exp (Contractual Expense)
Copay
Ins Recv (Insurance Receivable)
Cust Resp (Customer Responsibility)
Net Sale
Improved Data Accuracy
We corrected the Payments and Total Net AR calculations and verified that the data on the report now consistently matches what is shown on other reports, including the Patient AR Reconciliation Report, Monthly Business Summary Report, Customer Credit Report, and Misc. Payment Report.
Monthly Total Tables
The report now includes summary tables of the month's totals for each office and for the report.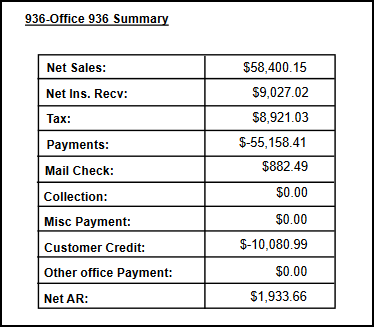 Report Calculations Explained
New footnotes at the bottom of the report explain exactly how each total is calculated.
Net Sale = Insurance Receivable + Customer Amount – Tax
Payments = Includes Patient Payments, Refunds, Adjustments, and Misc Patient Payments
Mail Check = Front Office mail check refunds
Misc Payments = All Misc Payments (except Patient Payment) – Transferred Patient Credits (from Claims Management)
Customer Resp. = Net Sales - Insurance Receivables + Tax
Allowance = Amount in insurance reimbursement column during pricing
Contractual Expense = Allowance - (Ins Receivable + Copay)
Retail = Item Retail x Quantity
Customer Credit = Includes all customer credit transactions (returns + adjustments + misc patient payments)
Net AR = Customer Amount + Customer Credit + Misc Payments + Mail Check – Collections – Payments
Net Insurance Receivable = Amount billed to insurance (derived from material order fee; may be inflated)
Collections = Any order sent to collections within front office
Breakdown by Office and Summary for all Offices
For multi-location practices, data in the report is now separated by office, including totals. Combined totals for all offices are shown on the Report Summary page at the end of the report.

Improved Formatting
The columns have been reformatted so that the data no longer wraps or overlaps.
The report now prints in black and white to save printer ink.