Eyefinity Practice Management 10.6 Release Notes
Release Date: April 30, 2019
Eyefinity announces the newest version of Eyefinity Practice Management. This updated version improves upon your system's robust attributes and offers new features and expanded functionality.
This section includes:
Front Office Enhancements
Eyefinity Practice Management 10.6 Front Office includes enhancements to the following areas:
Appointments for Inactive Providers Included in the Scheduler
You can now deactivate providers without losing the appointments assigned to them in the Scheduler. Previously, when you changed a provider's status to inactive, his or her appointments disappeared from the Scheduler. Now you can select the new Show Inactive Resources check box in the Day view to display appointments belonging to inactive providers, making it easier to reassign them to an active provider. The system also now prevents you from accidentally creating new appointments for inactive providers.
Open the Scheduler. For more information, see Opening the Appointment Scheduler.
Click Day.
Select Show Inactive Resources.
The Scheduler changes to add the inactive providers who have appointments on that day. If the day has no scheduled appointments for inactive providers, nothing changes.

To view the appointments for a selected week, click Week. If any inactive providers have appointments scheduled during the week, the Resource drop-down list includes them.
To reassign appointments from an inactive provider to an active provider, see Rescheduling Appointments.
Lab Order Validation for Unity Ethos and Essilor Crizal Lens Options
The system now warns you if you try to create an eyeglass order using a Unity Ethos lens style and an Essilor Crizal coating, which are not compatible. This change prevents failed electronic lab orders due to conflicting lens options.
Cost of Sale Analysis by Office Report Enhancements
To simplify theGenerating the Cost of Sale Analysis by Office Report, we removed Item types that typically do not have an associated cost. The following options have been removed from the Item Type drop-down list and no longer appear on the report:
Coating
Color/Coat Addon
Edging
Exam
Gift Certificate
Lens Base Type
Material Addon
Plans
Style Addon
Tint
If your practice does apply costs to any of the listed item types, and you need to have them printed on the report, contact Eyefinity Customer Support to have them added for you.
In addition to this change, the report has also been corrected to show adjustment transactions with a quantity of 0. Previously, adjustments appeared to have a quantity of -1.
Improved Item Sales Report
The Item Sales Report now displays the UPC/item number for each item.

Eligibility/Authorization Enhancements
The following enhancements have been made to the Insurance: Eligibility/Authorization screen:
The screen now displays additional plan information for VSP Primary Eye Care and VSP Diabetic Eye Care plans.
The + Eligibility/Authorization link has been changed to a button. For more information on adding eligibilities, see Recording Patient Insurance Information.
Old System Returns Removed from Reports
Old system returns are no longer included on the following reports:
Front Office Patient AR Reconciliation Report
Customer Credit Report
Office Flash Sales Report
Monthly Business Summary Report
Monthly Production Summary Report
Monthly Production Report by Provider
Item Sales Report
Old System Credits Filter on Patient Credit Balances Report
A new check box has been added to the Patient Credit Balances Report to enable you to display only old system credits.

Old System Balances Filter on Total Patient Account Receivable Aging Report
A new check box has been added to the Total Patient Accounts Receivable Aging Report to enable you to display only old system balances.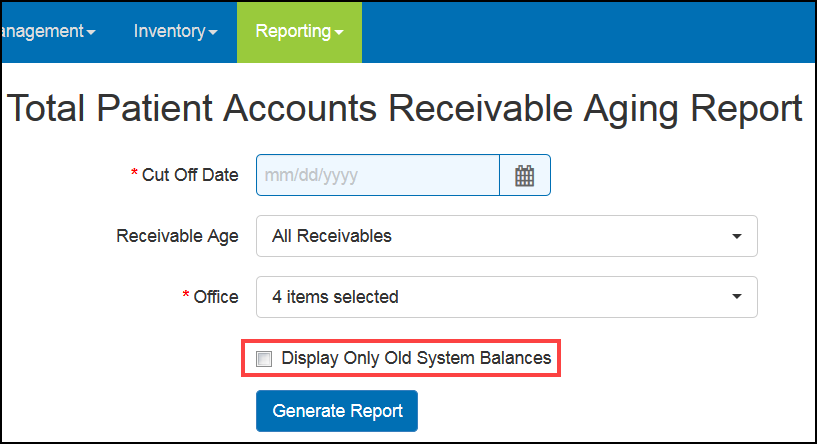 Claims Management Enhancement
Eyefinity Practice Management 10.6 Claims Management includes an enhancement to the following area.
Medicare DME Billing Changes for RT and LT Modifiers
As of March 1, 2019, Medicare DME claims require that items normally billed as pairs (including lens base, material, coating, style, color, tint, edging, misc. extras, and contact lenses) must be split into two separate, single (Qty=1) line items, one with the RT modifier and one with the LT modifier. Eyefinity Practice Management automatically generates claims to meet this requirement, including splitting the charge amounts, receivables, and copay amounts for each item.

Fixed Issues
Front Office
The Payor ID now appears correctly in the Add Insurance and Edit Insurance windows.

The Total NetAR on the Daily Transaction Sales Report now includes Collection amounts.
Patients now appear in alphabetical order for both last name and first name and when generating the Scheduled Recall Report for letters, postcards, and mailing labels.

Manual Calculation window now correctly displays entered amounts over 1,000. Previously, any amount entered that was over 1,000 was displayed as 999.00, with the remaining amount appearing in a different field.

The Production Service Report by Provider now displays the correct Qty and Net Sales amount for all items. Previously, some items would have incorrect numbers.

Lab On Hold orders that are voided in Invoiced Orders can no longer be voided again in Change Payments.

The Appointments with Missing Eligibility Report now includes all patients who meet the selected criteria. Previously, the report excluded some dependent patients who shared the same subscriber ID and appointment date.

Searching for frames no longer creates duplicate frame records in the system.

Opening the Scheduler in Week view on a Saturday now displays the regular business hours for the selected office. Previously, the scheduler would open to 12 a.m.

The system no longer requires you to enter a credit card number and expiration date when refunding a customer credit to a credit card.

Returning an accessory or exam item on an eyeglass order no longer removes the option to return or change the status of the rest of the order.
Claims Management
Dispensing fees and modifiers now appear correctly on VSP Medicaid claims. Previously, the fees and modifiers were missing for some practices.