Eyefinity Practice Management 10.4 Release Notes
Release Date: March 5, 2019
Eyefinity announces the newest version of Eyefinity Practice Management. This updated version improves upon your system's robust attributes and offers new features and expanded functionality.
This section includes:
Front Office Enhancements
Eyefinity Practice Management 10.4 Front Office includes enhancements to the following areas:
Pinned Notes (Patient Alerts)
You can now "pin" notes to the patient's record and access them easily from the Demographics, Overview, Scheduler, and Material Orders screens. Pinned notes are similar to Alerts in OfficeMate.
On the Demographics, Overview, Scheduler, or Material Orders screen, click the Pin icon.
The Pinned Note window opens.  
Type the note text, up to 140 characters.

Click Save.
The Pin icon turns red, indicating that the patient has a pinned note.
Insurance Summaries on Production Summary Report
The Production Summary Report now displays insurance summaries for each office and the entire report. The insurance summaries list totals for all insurance transactions in the selected date range, including adjustments and write-offs, along with a calculated net insurance accounts receivable total.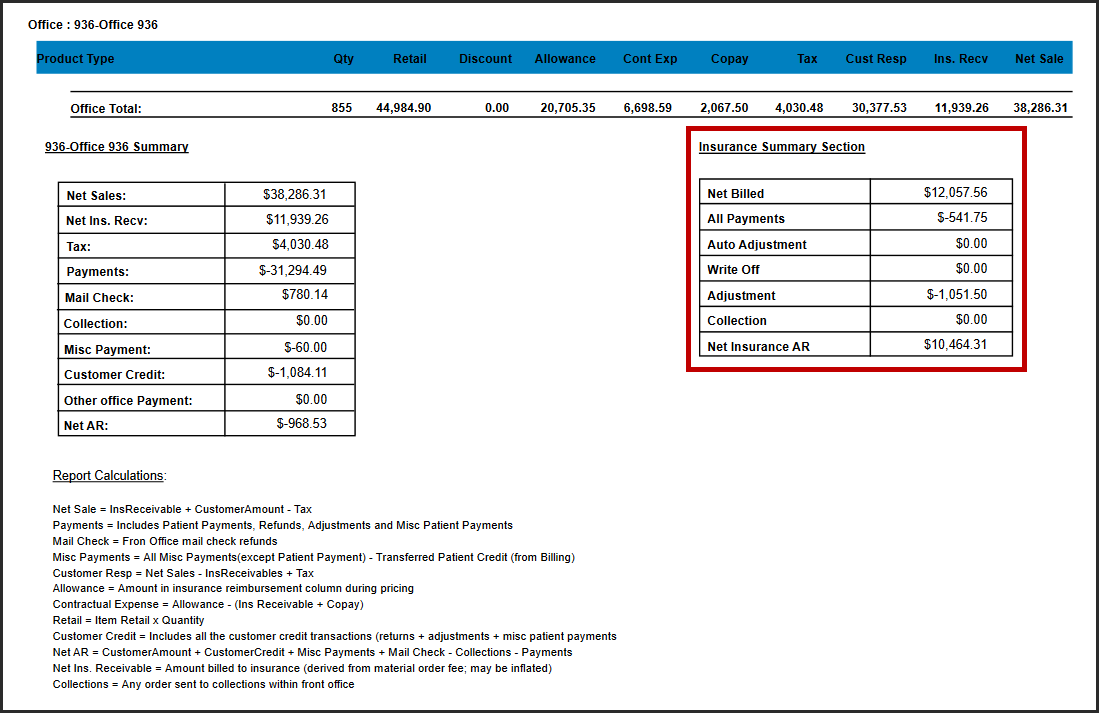 Manual Orders in Order Management
You can now use Order Management to update the status of manual lab orders. Previously, only orders using electronic lab submission were available for status updates in Order Management. After invoicing, manual lab orders are now shown in Order Management with the In Process status. You can select to Receive, Notify, Deliver, or Delay these orders. This enhancement also allows you to use Eyefinity Electronic Patient Notifications to send messages to patients regarding manual orders.
Improved Cash Receipt Summary Report
The Cash Receipt Summary has been enhanced to provide more complete information and improve calculation accuracy.
Daily closing needs to be completed for data to appear on this report.
Improved Data Accuracy
The total amounts on this report now consistently match what is shown on the Daily Transaction Payment Report.
More Detailed Data
The Other Payment column has been removed and replaced with the following columns. Totals for each column are included for each office.
ATM/Debit
Gift Card/Cert
Care Credit
Insurance Visa/MC
Report Calculations Explained
New footnotes at the bottom of the report explain how most of the totals are calculated.
Total Insurance Checks/EFTs = Total number of checks entered for the company. Insurance payments are NOT reconciled at the office level.
Total Insurance Visa/MC = Total number of Visa and Mastercard payments entered by the company. Insurance payments are not reconciled at the office level.
Total Bank Deposit = Cash + Checks + Insurance Checks/EFT
Total Credit Card = AMEX + Discover + Mastercard + Visa + ATM/Debit + Insurance Visa/MC
Total Gift Certificate/Gift Card = Gift Certificate and Gift Card payments combined
Daily Total = Total Bank Deposits + Total Credit Card + Total Care Credit + Total Gift Certificate/Gift Card
Improvements for Multilocation Practices
Each office location is separated by a page break.
The office name and Office ID # are listed in the report heading.
The report now lists a Company Totals line item.
Applied Payments on Monthly Production Report by Provider
The Monthly Production Summary Report by Provider now includes an Applied Payments section for each provider. Both Total Applied Payments by Patient and Total Applied Payments by Insurance are shown, as well as any insurance overpayment transferred to patient credit, if applicable. The amounts are calculated based on the applied payment transaction date.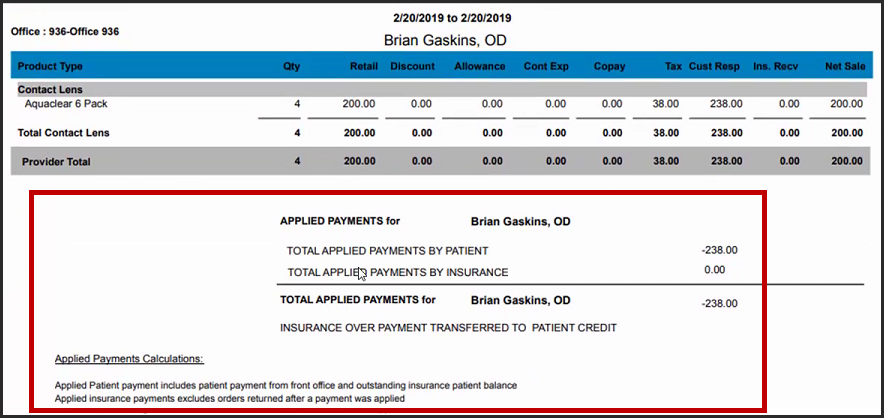 Order Numbers on Stock Transfer Report
The Inventory Stock Transfer Report now includes the order number. For information on stock transfers and printing the report, go to Sending a Stock Transfer.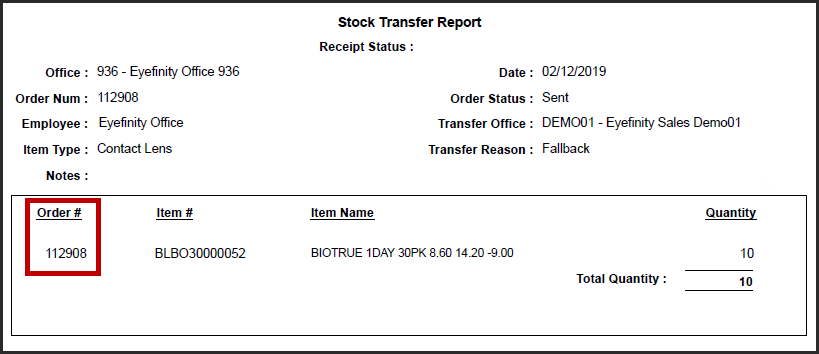 Improved VSP Insurance Calculations
The method that Eyefinity Practice Management uses to estimate patient out-of-pocket expenses and doctor reimbursements for VSP has been updated. Changes include the following:
Frame reimbursement amounts are more accurate.
Reimbursement amounts are calculated for lens material or style items instead of for the base lens.
In claims:
The base lens is now a nonreceivable line item instead of a ready-to-bill line item.
Amounts from the new calculations are better aligned with amounts shown in the explanation of payment.
VSP as Secondary Insurance on Exam Orders
When you create exam orders, you can apply VSP as the secondary insurance when the primary insurance is a medical insurance plan. The system automatically generates the secondary claim and puts it on hold. Set the claim to Ready to Bill status to have the system submit it to VSP. For more information, see the Eyefinity Practice Management 10.3 Release Notes.
Fixed Issues
Front Office
The Cash Receipt Summary Report and Monthly Production Summary Report now show the correct carrier payment amounts when generated for any date range. Previously, inaccurate carrier payment totals would print when the number of records for the date range exceeded 1,000 (for example, when generating the reports for an entire year).
You no longer get an error when you manually enter eyeglass prescription information while pricing medically necessary contact lens orders.
The Patient Overview now displays the correct # of No Shows for the patient.
The Patient Overview now displays only active insurance plans.